How do I filter results for a particular zone?
Click on "View all assessments"
Click on "Filter Results"

Click on zones, select one or more zones, and then click "Apply Filters"

The filtered results will be generated with a count of the number of species in the upper left corner.
Similarly, you can also sort by "Conclusion Type" (e.g., not a problem species, invasive, prohibited), "Origin" (e.g., Africa, Asia—temperate, Europe), Growth habit (e.g., herbaceous, vines, trees), and "Tool Used" (Status Assessment, Predictive Tool, Infraspecific Taxon Protocol).
How do I export a filtered list of species?
Please refer to "How do I filter results for a particular zone?" for instructions on filtering the Assessment list.
After filtering the list as desired you may export your list in an Excel spreadsheet by clicking on "Export to Excel."

Next you will see a status bar as the export is prepared.

Finally, click on "Download File" below "Export Complete" and the file will be moved to your downloaded files.

Where do I find the list of prohibited plants in Florida?
NOTE: Please refer to "How do I filter results for a particular zone?" for instructions on filtering the Assessment list.
Filter by conclusion type and select "Prohibited." The results that are generated are all the species listed on either the Florida prohibited aquatic plants list or the Florida noxious weeds list.
What are the differences in the "tools" used by the Assessment?
The Status Assessment is intended only for non-native plant species that currently occur in Florida and is not intended to provide evaluations of species that have not yet been introduced to the state. The focus of the assessment is plant species status in natural areas; status in disturbed habitats or ornamental or agricultural landscapes is not considered. The Status Assessment consists of questions about ecological, management, and economic aspects of the species and also the species' potential to expand into uninvaded zones. At least three experts (i.e., land managers or scientists) in each region familiar with the status of the species in natural areas complete questionnaires for the Status Assessment and their responses are combined with information gathered from an extensive literature search to reach UF/IFAS Assessment final recommendations. The conclusions include plans for reassessment and any species may be reassessed whenever additional relevant information becomes available.
The Predictive Tool is a weed risk assessment (WRA) protocol consisting of 49 questions used to evaluate species either new to the state or proposed for a new use. Questions presented in the Predictive Tool are answered by conducting thorough literature searches, using sources such as herbaria records, agency reports, and peer-reviewed primary literature. The questions in the Predictive Tool address the following areas:
History of the species (i.e., domestication/cultivation)
Biogeography (i.e., native range vs. proposed release sites, invasive status in other regions)
Life history traits (i.e., plant type, growth habit, modes of reproduction)   
Ecology (i.e., persistence attributes, allelopathy, dispersal mechanisms)
The Infraspecific Taxon Protocol (ITP) is an internal tool for UF faculty to independently evaluate cultivars, varieties, hybrids, or subspecies of resident (non-native species found in Florida) invasive species to determine the infraspecific taxa should receive the same recommendations as the resident species.
All tools assess the species or infraspecific taxon independently for each of the north, central, and south zones of Florida.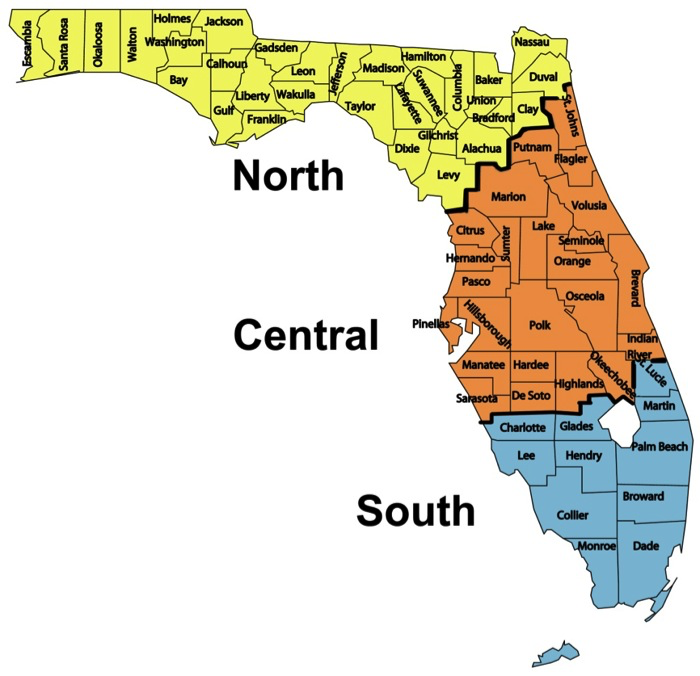 More information about these tools is found at https://edis.ifas.ufl.edu/ag376.
Can I use the images on the website for personal use?
All pictures included on the website include a citation for each photo. Most pictures are sourced from creative commons and therefore you may use the photos, but users should provide the appropriate citation to the source.
How often are species re-assessed?
Species assessed with the Status Assessment are re-assessed every 2 or 10 years depending on the conclusion. Species receiving a conclusion of "not a problem species, may be recommended" are re-evaluated every 10 years to determine if the presence in Florida's natural areas has changed. Species receiving a "caution" conclusion are re-evaluated every 2 years. And species receiving an "invasive, not recommended" conclusion are re-evaluated every 10 years to update the information in the file (e.g., distribution records, new ecological research), but the conclusion will not change. For species assessed with the Predictive Tool, we revisit the conclusions every 10 years for low and high risk species and every 2 years for "evaluate further" species to add new information that may change the score. Species may be re-assessed outside of these timeframes if relevant new data that might alter the conclusion is brought to our attention.